Are you ready? Why you should get serious about flu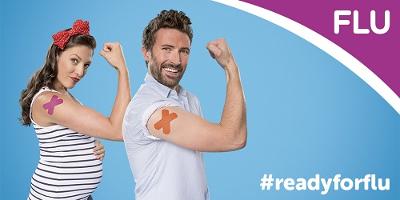 Who should get the flu vaccine?
The flu vaccine's the best available protection against the flu virus. It's very safe, only takes a few minutes and will last around a year. Some people are at greater risk from the effects of flu and should get the vaccine. This includes:
People with a health condition
People ages 65 years or over
Pregnant women
People that work in healthcare
Health Condition
Each year the flu vaccine protects against the most common strains of flu. You're more at risk from flu complications if you have illnesses or health conditions such as:
live problems - for example cirrhosis or hepatitis
chronic heart disease
respiratory disease
diabetes
multiple sclerosis
Aged 65 or Over
If you're aged 65 or over, you're recommended to get the free flu vaccine. It's the safest and most effective way to help protect yourself against flu.
Pregnant Women
Pregnant women are more at risk of flu-related complications and need extra protection. Flu infection during pregnancy can be very harmful to yourself and your baby. The flu vaccine can help protect you and your developing baby against this year's flu virus. The vaccine's safe for your baby and for you at any stage of your pregnancy.
Healthcare workers
Healthcare workers are more likely to be exposed to the flu virus. Every year in Scotland, a number of healthcare workers get flu. Having the vaccine's the best way to help protect yourself, your family and your patients against flu this year.
To get the free vaccine (available from October) speak to your line manager or occupational health department today.