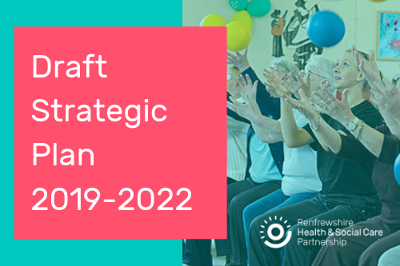 Our three year Strategic Plan sets out the vision and future direction of community health and adult social work services in Renfrewshire. It covers the period from April 2019 to March 2022 and describes how we will deliver the nine national outcomes. It is not a description of every activity the HSCP carries out, but seeks to highlight how we will continue to work with partners to deliver real improvements to Renfrewshire's health and wellbeing within local and national policy direction.
There has been an inclusive process to reach this stage with over 160 people participating in workshops over the last three months.
Your views are important to us, and over the next six weeks we would like to hear from people who live and work in Renfrewshire, and our partnership organisations.
Please send your comments by email to:
Renfrewshire.HSCP@ggc.scot.nhs.uk
or by post to:
Strategic Plan 2019-22 ConsultationRenfrewshire HSCP3rd Floor Renfrewshire HouseCotton StreetPaisleyPA1 1AL
If you would like to request a paper copy of the Plan please contact us
The closing date for comments is Friday 1 March 2019