The virus is still a risk but the older people in our communities also face the additional risk of losing their mobility and social connections.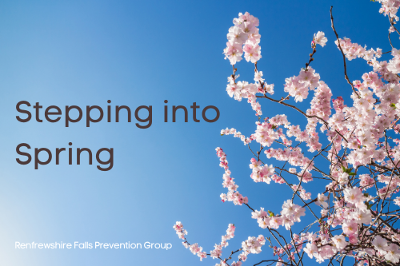 There is now less than 50 days until Easter and the beginning of Spring. For many older people, particularly those who have mobility problems or who live alone, the past year may have had detrimental effects with some losing a great deal of their stamina, balance, and confidence. As we prepare to come out of lockdown, we have been working with our partners to address this and looking at how we can help people re-enter the community safely, with more confidence - reducing the risk of falls and other potential health risks.
As part of the Renfrewshire Community Falls Prevention Group we will be supporting a joint campaign with Roar and other partners to highlight these challenges and to encourage people to maintain an active lifestyle wherever possible.
---
Why falls matter
Most of us will have experienced a fall at some point. Having a fall will be nothing more than a bit embarrassing for many, however, a fall can be startling, upsetting and life changing, especially as we get older.
---
Guidance and tips to reduce the risk of a fall and re-entering the community safely.
Can you get off the floor?
Many people are not aware that it is often not the fall at home but the 'long lie' that causes the most lasting harm.

People living alone who are not able to get themselves up and off the floor are often unable to summon help.

Research has shown that it is one of the things that we can lose the ability to do as we age, but unlike trimming our toenails, most of us are not aware that we can't do it until an emergency arises.

This is one of the most important thing you will learn in older age.
These films were made for NHS Inform, RoSPA and other partners staring people from Renfrewshire. They are easy to follow and understand. If you would like a leaflet please request on from info@roarforlife.org
What to do if you fall
Anyone can fall, and every fall is different. Watch these short films to find out what to do if you fall, or if you're helping someone who has fallen.
Hear from people who've been through it themselves about how to get up after a fall, and what to do if you're hurt or can't get up. You can watch the full 20-minute film on YouTube, or watch one of the excerpts below.
How to get up
If you can't get up
---
---