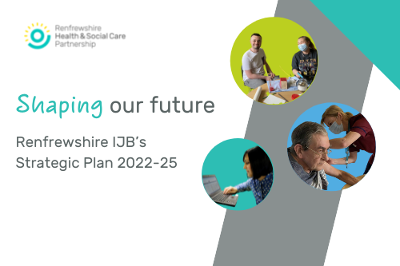 This is Renfrewshire Health and Social Care Partnership's (HSCP) third Strategic Plan since it was established in 2016. This year, we have taken a different approach to identifying our objectives, focusing on a range of themes which underpin how we deliver services, rather than looking at individual service areas themselves. We have also sought to place equalities and lived and living experience at the heart of our Plan.​
Our Plan proposes that we shape our services around individuals and communities to support everyone in Renfrewshire to live meaningful lives and achieve their hopes and aspirations. We seek to support the person rather than a condition or particular demographic with a focus on helping people to live independently, exercise choice and control over their care and support, and where necessary access the appropriate specialist support to help their recovery and rehabilitation where this is possible.
We plan to do this through a focus on activity within five key themes.
---
How to access our plan
Go to our Strategic Plan web pages to read the full plan
Download the PDF designed version of the plan

Strategic Plan 2022-25 [13MB]
Download the PDF Easy Read version of the plan

Strategic Plan 2022-2025 - Easy Read [1MB]
---
How to share your feedback
You can share your feedback in a number of ways:
Online: feedback via our online feedback form
Print:

Download and print a feedback form [895KB]
By Email: email your feedback to us or request a printed feedback form
Other ways to contact us: Visit out contact us page
You have until Monday 31 January 2022, to submit your feedback.
---
Watch as our Interim Chief Officer, Christine Laverty talks about why you should take part in the consultation
We have summarised our plan into a plan on a page