Frances Kelly is a team leader within our Care at Home team, based in Elderslie. In the latest of our Covid - One Year On staff stories, she tells us of her pride at how her service adapted to meet the challenges of the pandemic: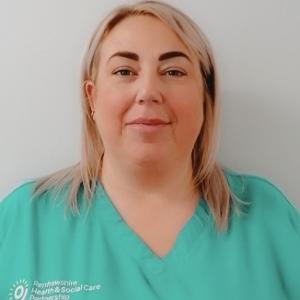 "The pandemic immediately created a whole new way of working for us. Families and service users were anxious and we had to reassure them. Of course we had to wear full PPE at all times. At times we were doing extra duties, as families couldn't visit.

"Covid will be around for a while although not on the scale it has been. New ways of working have had to be developed for everyone in the organisation. For myself, it's been hard to not be able to meet the team as a whole - having to meet individuals and keep safe distance can make it harder to fully support staff.

"The big positive is we learned how to deal with crisis situations. I'm proud of how the care-at-home workforce all pulled together to ensure service users got the cover they need. That was made harder by having so many staff sent home to shield.

"Hopefully we won't need to deal with anything like this again in our generation but if we do, we now have the tools to do this. My hope for the future is that we continue to provide a high-quality service to people that need it."