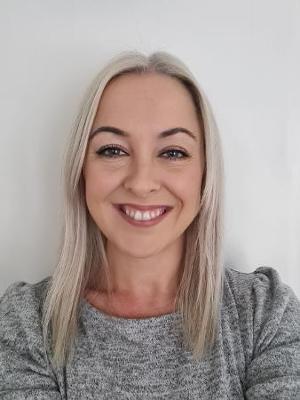 Hi! I'm Laura Docherty, the new HQ Admin Business Support Manager. I come from a social care background, having spent the last seven years leading the Administration team at Kibble Education and Care Centre. I'm now in my fourth week with Renfrewshire HSCP, and I am really enjoying the new challenge.
The last few weeks have really been spent getting to know my new team and finding out more about what we do and how that contributes to the wider organisation. It has been very different learning a new job remotely, and strange meeting everyone on Teams instead of in person. Thanks to those of you I have met so far for the warm welcome.
I have two young children, Oscar and Zara, so as you can imagine time for hobbies of my own is limited! I don't know if I'd call it a hobby as I'm not sure I enjoy it all that much at the time, but over lockdown, I started running, which I try to do a couple of times a week. Other than that, you're most likely to find me in my natural habitat - curled up on the sofa watching films with my family.
I'm really looking forward to meeting the wider team, getting to know everyone better (hopefully even in person at some point soon!) and I am excited to work with the Admin team to develop the service.
Sarah Lavers, Chief Finance Officer says - "I am thrilled to have Laura join us at this pivotal time for the HSCP. Laura brings a wealth of knowledge and experience to her new role and I am looking forward to working with her more closely over the coming weeks and months".