Our District Nursing Service serves the population of Renfrewshire of approximately 180,000 people and delivers a wide range of nursing interventions to people who are housebound or whose care is best delivered within the home.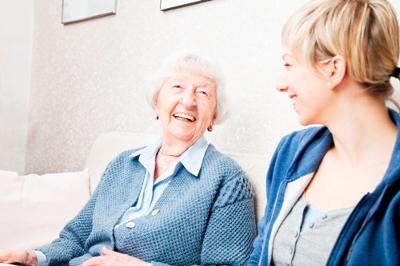 The service is available 365-days a year and is available 23 hours per day providing nursing care and support to patients and their carers. Referrals are normally received in the first instance through either your GP or other Health and Social Care Professional. Care needs are prioritised to enable staff to respond to both planned and unplanned care, which includes the ability to respond quickly to requests from patients who require urgent nursing intervention.
Our District Nursing Service plays a key role in the community by supporting patients living with long-term conditions and in the prevention and treatment of acute illnesses. The District Nursing service provide care and support to patients at end of life enabling them to die at home peacefully and will provide support to the family as part of that care.
District Nurses work with other services within the HSCP and voluntary sector to provide support when patients go home from hospital, working with families to make sure that all care needs are met by the most appropriate service.
Interventions commonly provided by the District Nursing Service for patients who are housebound include:
Advice & Support with long term conditions
Bowel Care
Continence management, catheterisation and ongoing catheter care
End-of-life care & palliative care
General nursing care
Health Education
Injections & medication administration
Medication reviews & prescribing
Pressure area, skin and wound care
Phlebotomy
Nasogastric (NH) and Percutaneous endoscopic gastrostomy (PEG) feeding