Being more active is one of best ways of improving our health and reducing our risk of numerous diseases and it's not as difficult to become more active as you may think.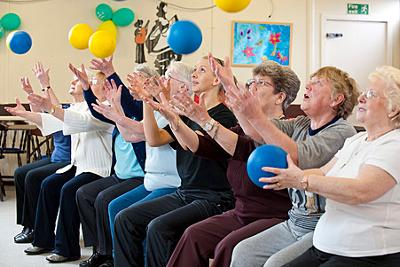 Physical activity is simply any kind of activity or movement that we do in our day-to-day lives. It includes a whole range of activities from structured sport and exercise programmes, to dance, housework, gardening and things like walking around the shops. You don't need to run a marathon or be a sports star to gain benefits from an active lifestyle; any activity which makes you breathe a bit faster, feel a bit warmer and raises your heart rate can help you to lead a healthier, and even happier, life.
Your aim is to:
build up to being active for 150 minutes spread across the week (for example 30minutes on 5 days of the week) but remember something is better than nothing. Try to be active daily, start small and build up gradually - just 10 minutes at a time provides benefits
try to move more often and break up the time that you spend sitting down when you can
take part in activities which make your muscles, joints and bones strong twice per week. This could be anything which uses your body weight, added weights or resistance, e.g. yoga, carrying groceries, gardening or exercising with weights.
Need some help getting started with physical activity? Then Live Active might be for you.
Live Active
GP exercise referral scheme running throughout Renfrewshire.
The Live Active Scheme is delivered locally by Renfrewshire Leisure. Renfrewshire Leisure has three fully trained counsellors in operation throughout the area that will arrange one to one consultations and provide support throughout the year to help you make lifestyle changes. These changes can include weight management, healthy eating and physical activity.

To be accepted for the scheme please contact your GP or Practice Nurse.
For further information on the Live Active Scheme visit NHS GG&C website: http://www.nhsggc.org.uk/your-health/healthy-living/get-active/what-are-my-options/live-active/
Vitality
Vitality exercise classes are specially designed for people living with a range of medical conditions, such as; Parkinson's disease, MS, Stroke, Cardiac Conditions, Osteoporosis, Cognitive impairments and COPD. Vitality is also ideal for those of you who have a fear of falling or find your strength and balance is starting to impact on your daily lives.
Our welcoming and supportive instructors will improve your confidence to join in, get active and start to lead a fuller, more independent life. There are various Vitality classes running across Renfrewshire, visit NHS GG&C website for further information: http://www.nhsggc.org.uk/your-health/healthy-living/get-active/what-are-my-options/vitality/