CIRCLE recovery hub, a unique mental health and addiction service for people looking for a recovery focus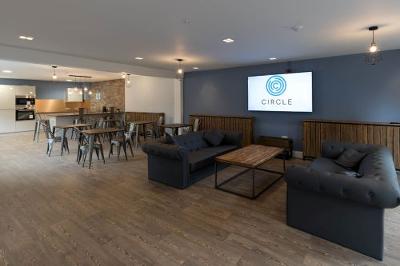 An introduction to CIRCLE
CIRCLE has been developed to provide enhanced support to local people who are on a recovery journey. It will act as a central recovery hub for individuals referred to the service, with recovery activity delivered across local communities throughout Renfrewshire.
The service will provide a wide and varied programme of activities, aimed at encouraging, involving and supporting people in recovery. CIRCLE aims to address a key gap within Renfrewshire's mental health and alcohol and drug services, where a lack of recovery opportunities for people in treatment was previously identified. As has been evidenced in other areas in Scotland, enhanced recovery opportunities do contribute to better outcomes for individuals.
CIRCLE is fully supported by Renfrewshire Alcohol and Drug Partnership and builds on the work of the Renfrewshire Alcohol and Drug Commission to further strengthen the support in Renfrewshire for people in recovery.
CIRCLE will provide people with improved recovery opportunities and improved links to and from other related services, ensuring individuals feel sufficiently supported throughout their journey. This will increase opportunities for people to have more independence and choice on how they manage their own recovery.
CIRCLE has a different look and feel to anything else in Renfrewshire, having been designed with input from a group of peers at every step of the way. Access to professional support is available from a staff team who will be operating alongside people with living experience of mental health, drug and alcohol recovery.
---
Our Ambitions and Strategy
At CIRCLE, the team's philosophy is simple. We all came on different ships, but we're in the same boat now. We know that recovery is fluid and things are constantly changing.
But no matter what, we're here to support our clients through the entire journey. At CIRCLE, we know the importance of the freedom to speak your truth and detail your feelings. And if you want to know more about the team, they're readily available for a chat too. Our focus is on gaining and maintaining hope, exploring social identity, and nurturing a positive sense of self. Being in recovery, we know that you can sometimes feel invisible. But once you're here, then you can rest assured that we'll be on-hand to hear you out. Considering the success that we've had with our focus groups to date, we'll continue to be receptive to what you want to see at CIRCLE.

---
Renfrewshire's new recovery hub will offer a service that:
Is accessible and inclusive; that clearly communicates its aims and ambitions for recovery in Renfrewshire.
Is transparent and accountable in recruitment, delivery of service and outcome reporting.
Promotes opportunity and choice for service users; to empower people to be in control of their own recovery.
Values lived and living experience - to influence and inform service planning and delivery.
Identifies and communicates the pathways and community supports to promote life-long recovery.
Listens to the feedback from clients and responds to support needs in a flexible way.
---
The details
Situated at 81 Glasgow Road in Paisley CIRCLE is large enough to accommodate an array of activities and it is hoped that it will foster a number of satellite sites throughout Renfrewshire to make recovery visible, accessible and tailored to community needs.
CIRCLE has a quiet room, a social space and IT suite; it is a trauma-informed, safe and welcoming environment whose purpose and scope will be informed by those who use the service.
A staffing complement of Recovery Workers, Occupational Therapist and other affiliated professionals provide a holistic approach to recovery, with 'navigators' responsible for outreach into other areas of Renfrewshire.
The services provided include:
Relapse prevention
Life skills for independent living
Social-emotional skills development
Socialisation
Leisure
Self-care
Creative activities
Service user involvement
Vocational rehabilitation (education, volunteering and employability)
Family/ carer support
---
Referrals
Individuals can be referred to CIRCLE from a variety of sources: for example, Community Mental Health teams, Housing Associations, Link Workers within Health Centres, Criminal Justice, GPs and Job Centres.
The criteria for referral is explained below in terms of individual expectations for prospective clients.
Prior to being referred CIRCLE, our clients should:
Have demonstrated a level of stability within Alcohol and Drug Recovery Service / Mental Health community setting (attending appointments regularly etc.)
Have demonstrated a commitment to recovery
Have already taken steps to address substance use/ Mental Health
Be ready to plan for life-long recovery
Be ready to commit to a contract of engagement regarding expectations and responsibilities
If you are referring someone to the service from a professional capacity or partner organisation please complete the referral form -
CIRCLE - referral form for professionals and partners [240KB]
---
We also accept self-referrals, which can be made by phoning 0300 300 1199, select option 2 followed by option 4 or emailing ci.circle.recovery@nhs.scot