Our Youth Health and Wellbeing Service provides confidential advice and information to young people aged 12-17 in Renfrewshire. Operating a drop-in service one evening a week for young people to ask health questions and have them answered by health professionals.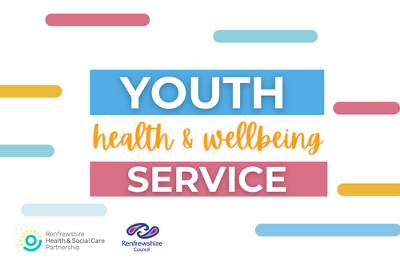 The service provides a safe, supportive, informative, fun space for our Renfrewshire young people to learn about their:
Health
Risk taking-drugs and alcohol
Hygiene
Healthy eating
Sexual health
Menstrual cycles
Emotional health & wellbeing
Mental health - managing and coping with stress and difficult situations
Healthy lives - physically active, exercise, water safety (in collaboration with OneRen)
---
The service is open every Thursday as a drop-in.
Thursdays, 6pm - 8.30pm
The Mirin
The Lagoon Leisure Centre
11 Christie Street
Paisley
PA1 1NB
---
Free Circuit class delivered by OneRen at 6pm
Free menstrual products
Free condoms (available for young people aged 13 and above)
This is a safe and confidential place for young people to ask questions of health professionals, no parents / carers will be permitted to attend.
---
Getting to The Lagoon Leisure Centre
Free bus travel
If you're between 11 and 22 years old, you can now use your Young Scot Card, also known as the National Entitlement Card (NEC), for free bus travel.
If you already have a Young Scot Card, you will need to get a replacement card for free bus travel.
If you are 16 or over, you can download free bus travel onto your existing NEC card.
Find out more - https://www.renfrewshire.gov.uk/nec-young-scot
---
Useful resources:
REN10 - Community Mental Health & Wellbeing | Children & Young People | Renfrewshire
Text 'REN10' to 85258
---
Togetherall is a safe, anonymous, online community to support your mental health. -
FREE to all aged 16-24 in Renfrewshire
---
The-Exchange - Referrals for counselling and psychological support
Sometimes being able to talk to someone about that can really help.
Did you know you can ask to speak to a counsellor or you can contact them directly for an appointment?
---
Childline - counselling service for children and young people up to their 19th birthday
Get help and advice about a wide range of issues, call us on 0800 1111, talk to a counsellor online, send Childline an email or post on the message boards.
---
Renfrewshire Adolescent Drug & Alcohol Resource (RADAR)
Referrals are welcome by phone or in person from you, your family, school, GP, or any other agency working with you. You can also contact us for a referral form to complete and submit from home.
Back Sneddon Centre
20 Back Sneddon Street
Paisley
PA3 2DJ
Telephone: 0141 618 2585