Our Technology Enabled Care Service supports vulnerable people and their carers across Renfrewshire through our 24 hours a day, 365 days a year response service. The service can assist you by providing extra support to live safely in your own home, and uses a range of technology to give you extra peace of mind, including a response service if you need it.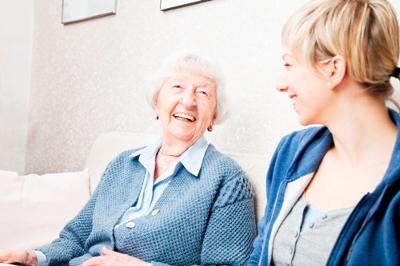 A community alarm is connected to a telephone line in your home and it can be activated by pressing a button on the alarm unit or a pendant worn by you. If you press your alarm, an operator will speak to you to find out what assistance you need. The operator can call the emergency services, your GP, a friend or family member, or send a mobile responder to help.
We can also supply linked smoke alarms, heat detectors, flood detectors, bed sensors, fall detectors, PIR detectors, pressure mats, pill dispensers, door sensors, GPS safe walking devices and other equipment. Any equipment supplied will be tailored to your individual needs and installed once you've been assessed.
You can use this service if you're assessed as vulnerable, at risk, frail or prone to falls, or if you have a disability, learning difficulty or sensory impairment.
For 2022 / 23 the weekly charge for your TEC community alarm charge will be £3.70 per week, an annual invoice of £184.60 will be sent to you. Payments of the annual charge can be spread over the full year, if you would prefer to pay in instalments please contact the Finance Recovery Team on 0141 618 2547 or by email at sundry-income.finit@renfrewshire.gov.uk. All calls received from your alarm system to the alarm receiving centre will incur a call charge from your telephone provider.
If you would like to be assessed for a community alarm / telecare you should contact the Adult Services Referral Team and details will be taken of your name, address, next of kin and 2 key holders who should live within Renfrewshire.
Our staff are always happy to help.
Renfrewshire TECS have been accredited to the Telecare Services Association since 2005 and are proud to be the first Scottish organisation to hold and retain this accreditation. The TSA accreditation involves an annual audit to ensure that service users are receiving a robust quality service that delivers the highest standards.
To make a referal to the TEC Service -
Contacts
adultservicesreferral.sw@renfrewshire.gov.uk
Community Alarm and Telecare Service General Enquiry Number:
---
To access our care services we need to complete an assessment of need. We receive new referrals and service requests through the Adult Services Referral Team (ASeRT) 0300 300 1380.
Tel: 0300 300 1380
Mobile: 07958 010 325
Email: adultservicesreferral.sw@renfrewshire.gov.uk
Mile End Centre
Seedhill Road
Paisley
Office hours:
Monday-Thursday 8.45am-4.45pm
Friday 8.45am-3.55pm
Out of hours:
Monday-Thursday 7am-10am/4.30pm-10.20pm
Friday 7am-10am/3.30pm-10.20pm
Saturday 7am-10.20pm
Sunday 8am-10pm