Our Community Health and Social Work Team aims to help adults with a learning disability and / or autism to achieve their potential and live a fulfilled and valued life.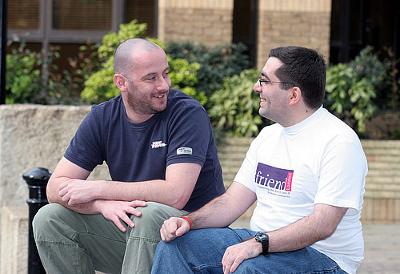 We are the initial point of contact to access a wide range of day, respite and support services, including health and social work services.
For adults with a diagnosed learning disability and/or autism in Renfrewshire, we can offer increased opportunities in the community, working in partnership to support safe and healthy lives. This may include assessment, treatment and care management, and our team ensures that all statutory duties are carried out, including adult support and protection.
The community team consists of a range of practitioners and services including -
Nursing team - they provide advice, care, and education to adults with learning disabilities. They passionately support person-centred care, identifying what matters most, optimising health and wellbeing and championing their human rights as equal and active citizens within communities.
Psychology team - ensure people with learning disabilities have the right to the highest standard of mental health by providing training for day centre staff in reducing any anxieties service users might have surrounding returning to the day centre after lockdown.
Physiotherapy team - support people with learning disabilities to have a healthy and active lifestyle to meet their human rights of having the highest standard of physical and mental health.
Social Work team - support people with learning disabilities by arranging or funding social care, offering support and protection and working preventatively to support people in accordance with their human rights.
Speech and Language Therapy team - support people with learning disabilities with their speech, language and communication needs and swallowing problems.
Psychiatry team - have specialist skills to assess and treat mental health problems. They help people with learning disabilities to have improved quality of life and high standard of mental wellbeing.
Occupational therapy team - work with people learning disabilities who have a variety of psychical health conditions and mental health conditions. Protecting and promoting the Human rights are at the very core of what Occupational therapy interventions are aimed at. Promoting informed choice, increasing independence and improving quality of life shape the interactions and interventions OT assist their clients and families with. accessibility and adaptation within their homes to enable participation and inclusion in daily life activities.
---
Referrals to the service may come from a variety of sources including healthcare workers, Social Work Services, voluntary organisations as well as adults and/or their carers. All referrals should be made through our Adult Services Referral Team (ASeRT) on 0300 300 1380.
Renfrewshire Community Health & Social Work Team
Renfrew Health and Social Work Centre
10 Ferry Road
Renfrew
PA4 8RU
Tel: 0141 207 7800
Opening hours:
Monday-Friday 9am-5pm