We offer learning opportunities for people with autism and complex learning disabilities through our Gateway service, which is based at Spinners Gate and the Anchor Centre.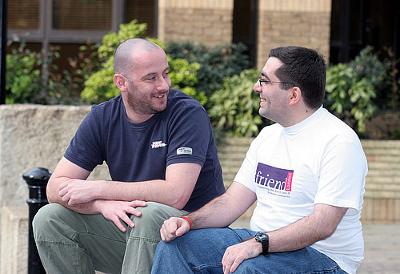 Our service aims to promote greater independence and life skills in a safe and therapeutic environment that helps learning and reduces anxiety. We create individualised programmes of activities that promote structure while encouraging flexibility within the routine. We do this through the framework of SPELL (Structure, Positive [approaches and expectations], Empathy, Low arousal, Links) and TEACCH (Treatment and Education of Autism and related Communication for Handicap Children).
At the Gateway, we aim to develop individual communication strategies through a range of communication systems and aids, such as the Picture Exchange Communication System, pictorial timetables and Makaton.
Our staff are trained in autism; therapeutic one-to-one interventions; 'DIR/ Floor-time', Touch Trust and Intensive Interaction. These improve attention and intimacy, promote two-way interaction and communication and encourage expression of feelings.
We work with carers, other agencies and each individual to identify and set clear outcomes, and we work with a variety of community based projects that are suitable and inclusive to the needs of those who use our service.
We view all activities as purposeful and use the interests of those attending the centre to build skills through imitation, expansion and responding in a way that will promote functional communication.
Our activities help maintain and develop skills, and we design our service around each person's needs, working towards goals that are identified in their My Plan.
To be able to access the day opportunities at The Gateway, users need to live in Renfrewshire, be aged 18 or over and have a dual diagnosis of autism, complex learning disability and related conditions. Those who use our service need a high level of one-to-one support and need support to use their skills and learn new skills.
We can accommodate up to 14 people each day at our core base in Spinners Gate and our satellite base at the Anchor Centre and, depending on what support is needed, those who use our service can attend for between one and five days each week.
We operate between 9am and 3pm Monday to Thursday, and 9am and 2pm on Friday, 50 weeks of the year, but we encourage users to take time off through the year for holidays. Please note, we are closed on public holidays and for regular staff training days.
---
In order to be considered for this service, you need to be referred. To make a referral, you must contact the ASeRT Team on 0300 300 1380.
Once we receive your referral, a member of Renfrewshire Learning Disability Service will be in touch and support you through the Self-Directed Support process.
The Gateway
Spinners Gate Resource Centre
15 Maxwellton Road
Paisley
PA1 2RH
Tel: 0141 618 5555
Opening hours:
Monday-Thursday 8.45am-4.45pm
Friday 8.45am-3.55pm (answering machine available at other times)